Explore the wonders of the National Gallery of Ireland's collection, and take a leisurely stroll around our beautiful galleries from the comfort of your own home in the first in a series of virtual tours.
Our physical buildings may be temporarily closed, but you can transport yourself behind our walls by taking a virtual tour of our rooms, where you are free to navigate and explore the works on display at your own pace.

NEW TOUR ADDED
Take a virtual tour of our exhibition Irish Horse
Explore the place of the horse in Irish life and art from the eighteenth century to the present day. Discover the relationship between artists and their equine subjects, and the heroism of jockeys including Ruby Walsh and A.P. McCoy.
This landmark exhibition was originally set to open in the Gallery in April 2020. In our commitment to bring people and art together, we now present the exhibition online for people to enjoy for free.
VIRTUAL TOUR OF MURILLO EXHIBITION
Take a virtual tour of our exhibition Murillo: The Prodigal Son Restored 
For the first time in decades, see this series of works by one of the most celebrated painters of the Spanish Golden Age, Bartolomé Esteban Murillo (1617–1682) hanging side by side in the National Gallery of Ireland. Six remarkable paintings depicting the parable of the Prodigal Son have been conserved and researched at the National Gallery of Ireland.
VIRTUAL TOUR OF THE DARGAN WING
Take a virtual tour of the Dargan Wing which covers the Grand Gallery, Rooms 45-48 and the Shaw Room
Begin in the spectacular Grand Gallery, and discover large-scale paintings like Jan Wyck's The Battle of the Boyne, and Joshua Reynolds' portrait of Charles Coote, 1st Earl of Bellamont. Then, make your way past Canova's marble Amorino and choose to go upstairs to Rooms 45-48 where paintings by Goya and Gainsborough await, or take the sweeping staircase down to the Shaw Room and see Daniel Maclise's impressive historic painting, The Marriage of Strongbow and Aoife
Virtual tours by room
Or, you can explore specific spaces in the Gallery and find information about each work of art on display.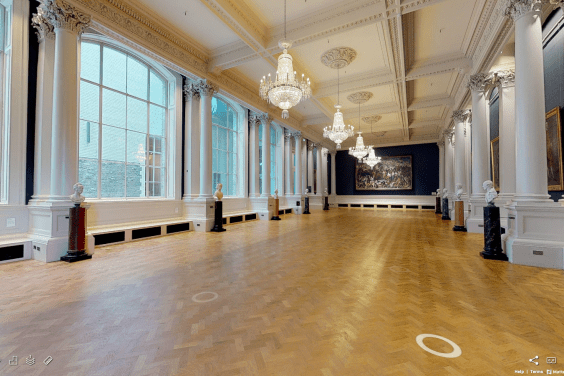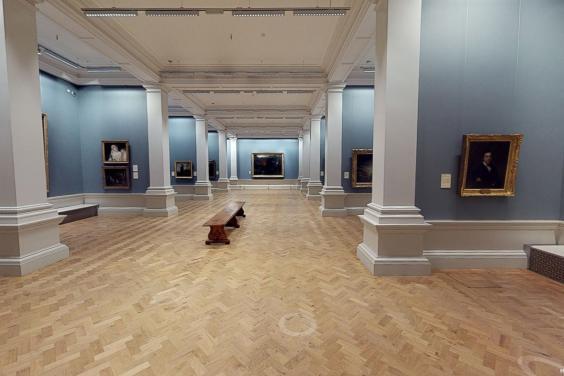 You can also view these tours in VR, if you have Google Cardboard or Samsung VR. Just click the VR icon in the lower right corner when you are in the rooms.
This project was generously supported by the Annenberg Foundation.