Bealtaine Annoucements
Artist call outs and announcements for 2020!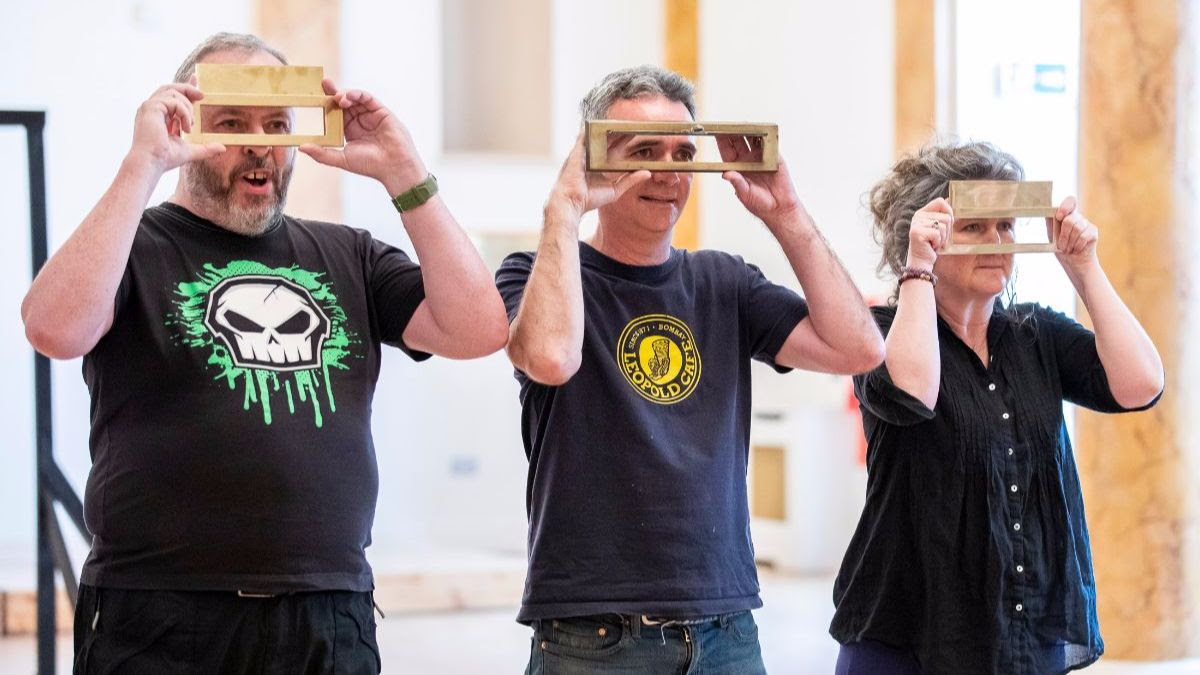 Image from the CoisCéim BROACHREACH 'Dancing Through the Door Tea Party', for Bealtaine 2019. Photo: Rob O'Connor.
Dear Bealtaine Friend,

We hope this finds you well and you are enjoying some much needed rest after a busy spring, filled with creativity.

In this special summer ezine, we bring you three exciting opportunities, as well as our 2020 Visual Arts Commission announcement.

Very best wishes,
The Bealtaine team.
New Bealtaine Art Commission in Mid-West
Ground Up Artists' Collective
Age & Opportunity's Bealtaine Festival, in association with the Arts Offices of Clare County Council, Galway County Council, Roscommon County Council and IMMA's Residency Programme are pleased to announce an exciting new arts initiative in the mid-West.

Announcing the commissioned artists – Ground Up Artists' Collective

This partnership is a first where all parties have come together to commission a new work by a visual artist aged 50 and over to create a new work in response to the 2019/2020 Bealtaine theme of Hospitality. The commission will involve a public art engagement in the mid-West, as well as a development and research residency in IMMA. The commission will also culminate in a significant public sharing of work for the Bealtaine Festival 2020.

The selected artists; Maeve Collins, Julie Griffiths and Monica de Bath are long-time members of Ground Up Artist's Collective which supports, promotes and advocates for rural based art projects and events which engage with local communities of place or communities of interest.
Bealtaine Artist In Residence in a Care Setting
Call for ARTISTS of all art forms
Deadline 9th August
Artist in Residence in a Care Setting – Age & Opportunity invites applications from visual artists, musicians, filmmakers, writers, theatre makers and dancers for a residency in one of six care settings around Ireland this Autumn.

Through this residency the Age & Opportunity creates an opportunity for a care setting and its residents to engage creatively with an artist over the course of a number of months. The residency also offers an opportunity for the artists to develop their specific skills in relation to working in arts and health settings.
For full details and information on how to apply, click below.

This initiative is made possible by Creative Ireland Programme's National Creativity Fund, the Arts Council and the HSE National Lottery Fund.
Bealtaine Flagship Choir 2020
Open Call for Choirs
Deadline 16th August
The Bealtaine Flagship Choir 2019, Aspiro from Carlow, performing for the Dusk Chorus on Cow's Lane in Temple Bar.
Following the success of the inaugural flagship choir in 2019, Age & Opportunity once again invite choirs to apply to be the Bealtaine Festival choir for 2020, (its 25th year).

For the Flagship Dawn and Dusk Chorus events (taking place at the beginning and end of the festival respectively), the Bealtaine Festival wishes to showcase a choir that celebrates the Bealtaine spirit in some way – it may be that they are intergenerational, or that they are championing creativity as we age or that they have been staging their own Dawn Chorus events for the past number of years.

The Dawn and Dusk Chorus are presented in partnership with Sing Ireland.
Bealtaine Tour 2020
Open Call – Theatre Producers
Deadline 16th August
Bealtaine Touring Award – After a successful call out for 2019, Age & Opportunity once again invites applications from theatre artists and producers for work which will tour, during May 2020, as part of the Bealtaine Festival.

Age & Opportunity will provide a platform (through the Bealtaine Festival) and additional financial support to a tour which chimes with the mission and aims of the organisation and the Bealtaine Festival, prioritising work which fulfills the assessment criteria and is radical, challenging, humorous or irreverent.

Download the full details by clicking below.